The Devil Fruits is a special feature that only has in Haki - The Lost Treasure. If using at the right time and right way, It will increase the surprise of the battle, one step ahead of your opponent.

The Devil Fruits are as well as an equipment. when one of your hero "eat", it will be demonstrated as a skill in the battle. Devil Fruits are also divided by qualities, each fruit has its own strengths. Let's figure out how to equip a Devil Fruits.
1. Collect the Devil Fruits
On the main screen, please choose the "Tavern" as below:
At the Tavern Screen, Let's click on the Collect tab. Here you have a chance to collect Devil Fruits and many other valuable items (equipments, refine stone, bery and gem) to your collection. Please note that there are 3 types of collector: Normal, Rare and Precious corresponding to the Gold needed, and the time to get free is different. It means the quality of each fruit is also different.

2. Equip the Devil Fruits
On the main screen, Let's click on the "Equipment" button: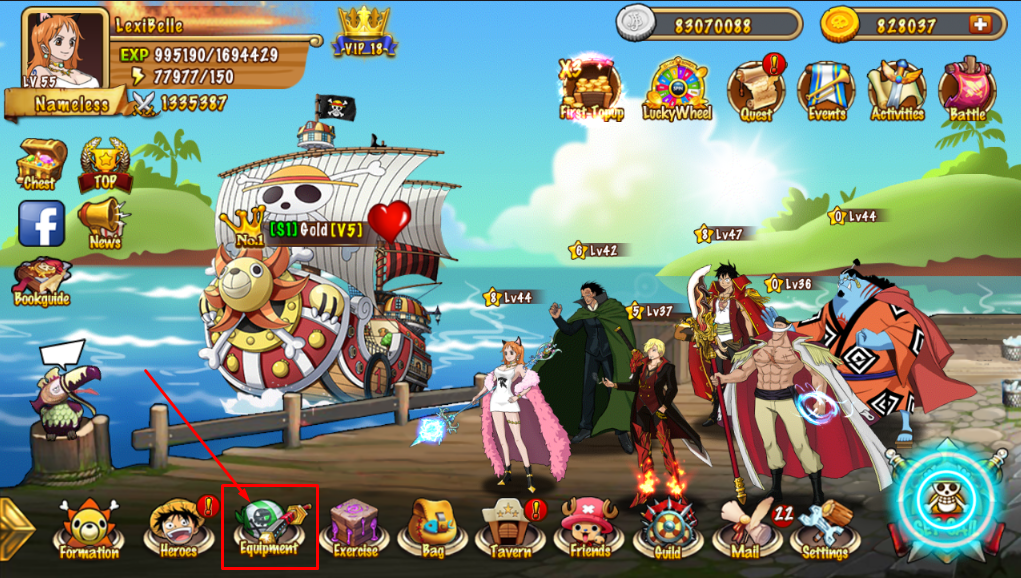 On the Equipment screen, choose the Devil Fruits tab, you can choose the Devil Fruits that you want to equip and click Use:
By clicking on detail, you can choose other common fruit to feed your main one:.
If you don't want to spend time on this action you can click on the Auto add button. The system will randomly select the Devil Fruits that are not equipped and priority high quality fruit first. Then select the enhance button to confirm the action or cancel.